Used Model Purchasing
We here at OBG know that sometimes players want to be able to sell parts of their collection, either to free up space or to help finance their next project.  We've put together a simple process outlined below where asses the value, then purchase those models from you.
Step 1
Create a list of all of the models/units you would like to sell.  Please include:
The model or unit's name
The model type (plastic, resin, metal, etc)
The model condition (New in box, partially assembled, fully painted etc)
The paint quality (unpainted, based, pro-painted etc)
Anything extra, such as custom weapons or the model being magnetized.
Example:

Step 2
Take clear pictures of every model or unit you wish to sell
Lighting is important for this, please make sure you use a brightly lit room.
Step 3
Send an email with your list and pictures to
[email protected]
with the subject line "Used Model Quote", your last name, and the date.
Make sure to include your full name, mailing address and email address.
Example: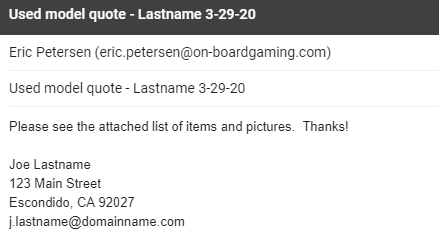 Step 4
Please wait while we process your quote.  We will base it off the condition of each model or unit and it's current market price.
We will contact you via email or text and provide both cash and store credit offers.  Store credit gets a +30% bonus.
Please allow 2 business days for processing.
Step 5
If you accept our offer, then it's time to package and send your models to us.
You may ship your models to us, drop them off at the store (with appointment) or have them picked up locally (if within 15 miles of the store.)

Due to the current COVID-19 situation, all packages may be held in quarantine for up to 72 hours for the health and safety of our staff before being evaluated.  You will still receive notification of receipt.

Please allow up to 5 business days for verification that all of the models match the request.
Once verification is completed, you will be sent payment via check, PayPal, Venmo or have money added to your Store Credit account.
That's it!
FAQ
What types of models will you buy?
We will evaluate models for any game system, but may not make offers for all of them.
Do you buy used paints or hobby supplies?
No